Looking for a suitable exfoliator for you? For most of us, it is our favorite skincare process. Yes, you read it! The best skincare routine we ever had! Don't get me wrong because using this pleased our skin with great results, especially for those flake-prone skins. A fine-textured exfoliator that polishes the skin and leaves it feeling clean and smooth is always the best!
But first, what is an exfoliator?
Exfoliator is the process of removing dead skin cells from the outer layer of the skin.  With exfoliating it smoothens, gives fresh make your pores smaller. Exfoliator has two types: Chemical and Physical Exfoliation. For Chemical Exfoliation, exfoliating acids are used to exfoliate dead skin cells and excess oil from the skin's outer layer. Physical Exfoliation is a method of removing dead skin from the surface of the skin by rubbing ingredients or tools on it. Clay masks and finger mitts are an example of this.
Always make sure to find the best products for your skin types and concerns. If your skin gets irritated, stop using it and wait for another week to use a new skincare product for your face.
How often you should exfoliate? Begin using only once a week and once your skin has adjusted and doesn't show signs of irritation you can increase it to two to three times a week to decrease the visibility of pores and treat blemishes.
Let's explore some best of Korean exfoliators or I should called the Holy Grail products we must have at home.
Cosrx is everyone's favorite brand because they have effective products. Surprisingly these two liquids are popular:
COSRX AHA 7 WHITEHEAD POWER LIQUID is a gentle yet effective exfoliator that contains natural AHA from apple fruit water and glycolic acid, which helps remove whiteheads trapped inside pores and leaves the skin clear and soft. Great for all skin types. Must be used with sunscreen in daylight and moisturizer before going to sleep.
COSRX TWO IN ONE PORELESS POWER LIQUID is an oil-fighting liquid that clears up skin congestion and impurities while tightening and minimizing the appearance of enlarged pores. It can clear congested pores, reduce the appearance of enlarged pores, and refine skin texture like no other.
Great for all skin types, especially for oily skin with enlarged pores. Since this liquid contains only 0.1% of BHA, it can be used with other AHA or BHA products.
Another exfoliator that you should also try.
This product is easy to use and it isn't harsh, nor irritates my sensitive skin. NEOGEN BIO-PEEL GAUZE PEELING LEMON PADS are physical exfoliation pads combined with chemical peeling effects of the lemon serum. It provides gentle yet effective exfoliation of dead skin cells, leaving skin smooth and clear. Soaked in Vitamin C rich serum formulated from various antioxidant and vitamin-rich natural ingredients like lemon, these convenient cotton gauze peeling pads will leave your skin looking smoother, brighter, and more radiant.
Clay mask is very popular and you should know this known brand in South Korea.
INNISFREE JEJU VOLCANIC PORE CLAY MASK is a 3-in-1 that removes sebum, brightens skin, and treats blemishes. It's soothing and moisturizes our skin. This clay mask can reduce the appearance of large pores on the nose and cheeks without doing anything.
SOME BY MI SUPER MATCHA PORE CLEAN CLAY MASK offers a complete pore care solution. This mask is excellent for pore care. The clay was able to absorb the sebum and impurities in my pores, giving them a 'cleaner' and smaller appearance. The mask also provides a pleasant cooling sensation that is very soothing to the skin.
Always remember that you should follow your skincare routine with serum or moisturizer to prevent dry skin after you exfoliate.
We not only offer an exfoliator for your face but also your body.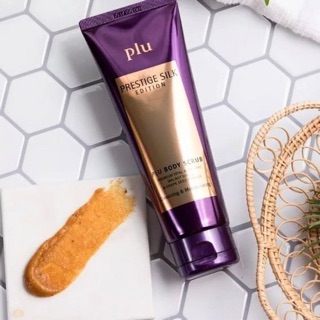 Try Plu Prestige Therapy Body Scrub is a luxurious body scrub that exfoliates the skin to reveal and whiter and smoother skin tone. Frequent usage reduces skin pigmentation and evens out skin tone by getting rid of dark patches, especially in areas prone to darkening such as the elbows, knees, armpits, and inner thighs.
---