South Korean Makeup Products to Keep an Eye On
The popularity of Korean makeup or what we called now K-Beauty creates wide changes for everyone. As Korean value their skincare because of the higher standard they value their makeup that is also packed with natural and skin-friendly ingredients that also can improve the condition of their skin.  Did you know Korean prefer the natural makeup look which is easy to do? Even beginners can do it! They put a minimal foundation that gives them dewy, glass skin.
Face Foundation/Cushion/Powder
For some, they skip foundation because they already have very nice skin or just go for a light BB cream that will last the entire day. Not only just skincare we should care about but also the makeup we are using so we can get the healthy skin we are wishing for. Foundation creates a perfect base for your makeup looks with our selection of pressed powders, liquid foundations, and BB creams in a wide range of coverage and finishes.  
Beauty brands offer varying unique propositions. Like MISSHA Perfect Cover BB CREAM with SPF42 PA+++, this product promotes natural-looking coverage while providing sun protection, treating dark spots, and preventing wrinkles. Another one is Etude House Precious Mineral BB CREAM it has moist and matte formulas, and in five shades to suit more skin tones, and Etude House Double Lasting Cushion Cover SPF 50+ PA++++, this cushion foundation that adheres to the skin lightly and expresses flawless skin makeup.
SEP BEAUTY Skin Wrapping Foundation SPF30 PA++ is light and soft that helps to maintain beautiful skin from morning to evening without modification. A brand that is also popular for the face that gets oily you can use INNISFREE No Sebum Mineral Pact or powder it absorbs excess sebum and oil for downy makeup and an even skin tone prevents makeup from becoming patchy while correcting dull skin tone to keep the skin bright and radiant all day.
Eye Makeup
Korean eye makeup is popular internationally because of the influence of KPOP idols and artists that puts shimmery eye shadows in neutral colors such as brown, beige, and even orange or pink when it comes to everyday wear. They also prefer dark brown eyeliner over black, and they use pencil eyeliners to apply eyeliner in feathery strokes rather than sharp, precise cat-eye wings like liquid and gel liners. Beauty Korea Dubai likes to introduce these brands of eye makeup you can use every day that is available to our online store.
Etude House Play Color Muhly Romance is a gorgeous palette that can wear during autumn but is also recommended to use as everyday eye makeup.  It comes with nine vibrant colors that are perfect for any occasion, whether it's for a day out of shopping, or a date night with the beau.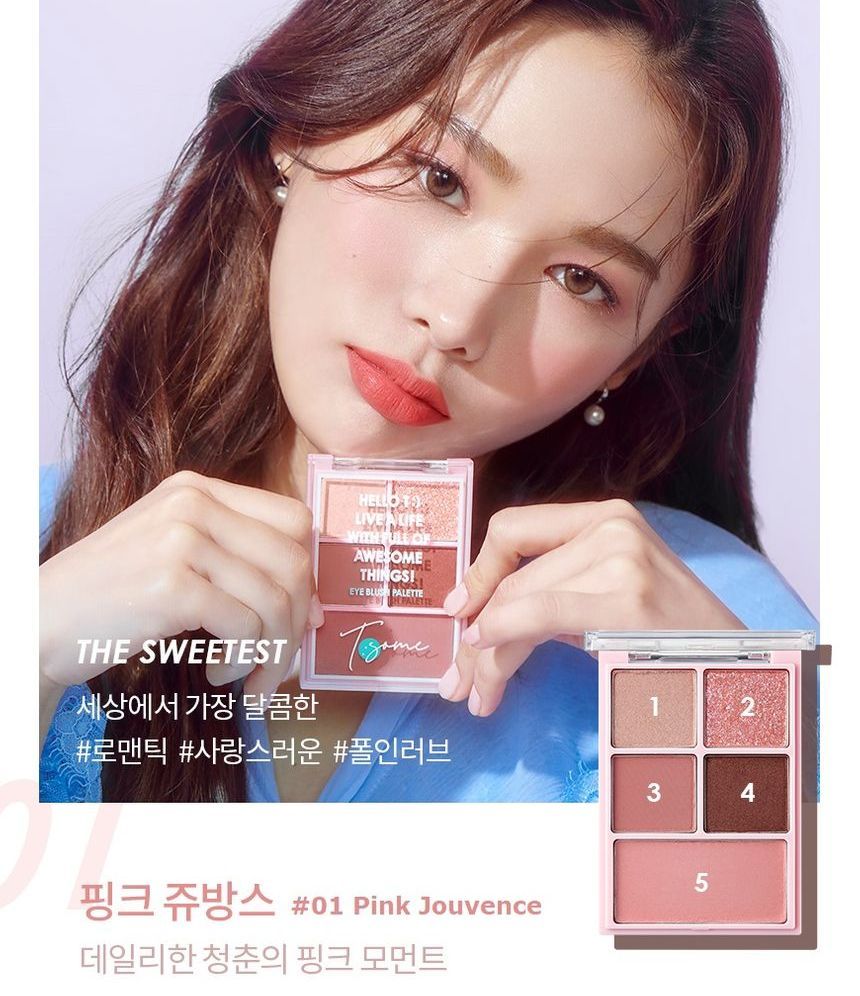 MAKEHeal T:Some Eye Blush Palette it is easy to color daily makeup palette. A make-up palette that anyone can easily use anytime. Soft and transparent color that covers the eyes and cheeks at once. 5 kinds of color that are delicately composed of glitters with delicate jewels, soft shimmer, and transparent matte with vivid colors.
Our [Super Sale] Chateau Labiotte Wine Eye Shadow Palette has a multi-color eyeshadow palette loaded with 8 wine-motivated colors. Its rich colors and silky smooth textures will create gorgeous eye makeup. Eye shadow palette containing wine extract from France premium wine for a softer melting touch presenting a rich color. Smooth, melting deep wine color The fine particle's color pigment allows you to express beautiful eyes without any gaps. Compared to other brands non-dusty, it is smooth to use and has a glamorous pearl glitter texture.
| | |
| --- | --- |
| | |
To add eyeliner and mascara for your everyday makeup these products are available on our online store. For beginners, you can use KARADIUM Waterproof Eyeliner Pencil Black. It is a waterproof pencil eyeliner that helps you easily apply everyday eyeliner with sharp yet natural lines. It is designed in the form of a screw pen and comes with a very handy pencil tip. Soft lead, good adhesion "regardless" of oily or combination skin. Another one is, Tonymoly Gel Eyeliner is included with a brush with a soft application for clear-looking eyes. A gel eyeliner with long-lasting formula glides on skin smoothly for refined, non-smudging lines.
| | |
| --- | --- |
| | |
For mascara, Etude House Dr. Mascara Fixer Perfect Lash: Volume Up Curl Fix transparent is one of the best seller mascaras in our store. It is fixing gel mascara that offers perfect curl and volume and a waterproof fix in any environment and climate. Our new arrival Etude House Lash Perm Curl Fix Mascara is the best-selling product in South Korea. This waterproof (for real) mascara volumizes, defines, deepens the lash color, and keeps lashes curled the whole day.
Liptint
To achieve Korean natural makeup don't forget to put lip tint. Here's are some of our products: Peripera Ink the Velvet AIRY Liptint provides the natural-looking color. This lip tint glides on smoothly, offering vivid color and a soft, velvety texture to your lips. Etude House Fixing Tint is perfect for creating both bold and graduated lip looks. 3CE Velvet Liptint is a sherbet-like texture that melts into lips and leaves a natural tinge with a matte finish. These lip tints are perfect for For people who like soft, moisturized lips.
Tons and tons of Korean beauty products are produced and introduced to the world at an astounding rate, and the beauty market is constantly driven by the consumers' high standards of beauty. You're on your way to creating your own Korean cosmetics style, so get creative and make it your own! These Korean beauty products are made with natural ingredients and high-quality raw materials, so they really are very safe to use., so they really are very safe to use.
---